Home
»
Our Products
» Axial Flow Fan
Axial Flow Fan Manufacturers
AMCS Cooling Systems Pvt. Ltd. is one of the best quality
Axial Flow Fan Manufacturers
,
Axial Flow Fan Manufacturers in Noida
,
Tube Axial Fan Manufacturers
. Axial Flow Fan Suppliers. We are also one of the few acclaimed names to offer Axial Flow Fan through which the air of gas flows parallel to the impeller axis. Available in various types, our Axial flow fan covers a wide range of quantities and pressure.
Axial Flow Fan have MS casing / Bracket with cast Aluminium alloy impeller with aerofoil section blades suitable for various mountings. Airmake Cooling System Axial Flow Fan are used in industry for providing general ventilation fume exhaust and removal of hot spots and as roof extractor.
Axial Flow Fan Suppliers
AMCS Cooling Systems Pvt. Ltd. Axial Flow Fan are made in direct drive as well in belt drive construction for general ventilation/ smoke extraction in commercial complex/malls/multiplexes, etc.
Tube Axial Fan Manufacturers
Bifurcated Axial Flow Fan
We are offering best quality Bifurcated Axial Flow Fan that are apt for exhausting or recirculation of fumes, hot air and gases. The Bifurcated Axial Flow Fan offered by us is highly in demand in the market. Moreover, it can be availed at the most economical prices.
Type : bf - bifurcated axial flow fan wheel
Diameter : 400mm - 1000mm
Performance : 1250 -73000 cmh upto 40mm wg sp
Mounting : In line duct and or wall mounting
Application : These fans are suitable for handling hot, explosive, corrosive and inflammable gases. Motor
remain outside the air streem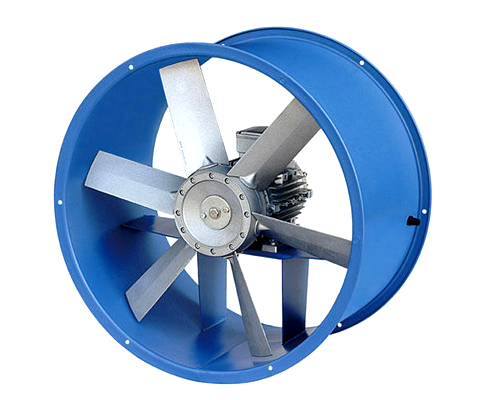 Belt Drive Axial Flow Fan
Axial fans are suitable for large quantities of air at low pressures while producing very little noise. Compared with centrifugal fans the axial fans have the following advantages :
Lower Price
The impeller has adjustable blades which make it possible to adapt the fan to the requirements of the plant
Reduced space requirements
Shorter ducts, thus lowering the cost of the system Belt driven axial fans are used in situations where it is important that the motor is kept out of the airstream due to the type or temperature
of the gases/fumes involved. An additional advantage is the accessibility of the motor allowing easy maintenance.
Arrangement :
Belt driven fans suitable for horizontal or vertical mounting.
Construction :
Long cased, the casing covers the entire length of the impeller, shaft bearings and belt pulleys positioned inside and the motor mounted outside. An inspection door is provided for access.
Man Cooler Pedestal / Bracket and Tubular Type
Industrial Man-Coolers are designed to impart direct drafts of air on men, materials and machines. They are especially advantageous in hot locations and ventilation of hot and confined spaces, such as foundries, steel mills, work-shop or similar places. Rapid man coolers are powerful, quiet and reliable portable fans, which provide instant and controllable air movement wherever it is needed.
Functioning:-
For application requiring clean air at low pressure, an axial fan can be the most cost effective choice of fan. However for large fan duties requiring high rating motors, the higher efficiencies are obtained with centrifugal fans which considerably reduce the operating costs. Ashish Air manufactures a wide range of Axial Type Fans. From our direct driven axial fan, where the impeller is mounted on the motor shaft, to the belt driven axial fan. Ashish Air impellers are aluminium die cast with adjustable pitch blades having aerofoil section. Impellers are statically and dynamically balanced as per ISO 1940. Casings are fabricated from heavy gauge steel sheet. FRP inlet cone and Galvanised outlet diffuser are provided to improve the efficiency.
Application:
Carbon industry, Cement, Boiler applications, Foundry Applications, Metal melting and furnaces, Iron-Steel, Textile, Blast cleaning, Powder cleaning, Pulverising, Plastic processing, Fume extraction, SAW Pipes MFG, Pharma Industry, For air pollution control, and Many Others.... Tailor made solutions are also available for higher capacities other than the standard models.
Roof Extractor:-
Roof Extractors are powered Ventilation Fans mounted on the roof to exhaust air forcibly. Being a specialized manufacturer and supplier of Roof Extractors, we provides superb quality Roof Extractors to our valued customers in accordance with their needs. Continuous expulsion of indoor stale, hot and contaminated air gives way for fresh air entry into the enclosed space thus maintaining healthy indoor air quality. These units are useful with ducts also to extract air from a particular location.