Home
»
Our Products
» Diffusers
Diffusers
A diffuser is the mechanical device that is designed to control the characteristics of a fluid(liquid or gas) at the entrance to a thermodynamic open system. Diffusers are used to slow the fluid's velocity and to enhance its mixing into the surrounding fluid. In contrast, a nozzle is often intended to increase the discharge velocity and to direct the flow in one particular direction.

Flow through nozzles and diffusers may or may not be assumed to be adiabatic. Frictional effects may sometimes be important, but usually they are neglected. However, the external work transfer is always assumed to be zero. It is also assumed that changes in thermal energy are significantly greater than changes in potential energy and therefore the latter can usually be neglected for the purpose of analysis.

The design and selection of air distribution equipment in today's buildings presents one of the more unique challenges for mechanical designers. Unlike other mechanical equipment required for these environmental systems, the air distribution equipment selection must combine a proper choice of engineered products efficiently providing conditioned air to the space while adding architectural features which compliment the interior design. With today's emphasis on occupant comfort, air uality and energy conservation, the proper selection of air outlets cannot be overlooked. It is the intent of this section to provide a concise approach to the proper selection of air distribution outlets. The general information is given below while the actual selection procedures of the air outlets are given in the respective technical guides.

These air distribution products make the environment of your home and office more comfortable. Our products find wide application in the air conditioning of hotel rooms, class rooms, offices, nursing homes, etc. As premium raw materials are used in the manufacturing processes, thus the end products achieved are par excellence and extremely durable.

As a client oriented entity, it is our conscious effort to competitively price the products and deliver them to the clients well within the stipulated time frame. Owing to our commitment towards our business and honest trade practices, we have won the trust and support of numerous clients located all across the country.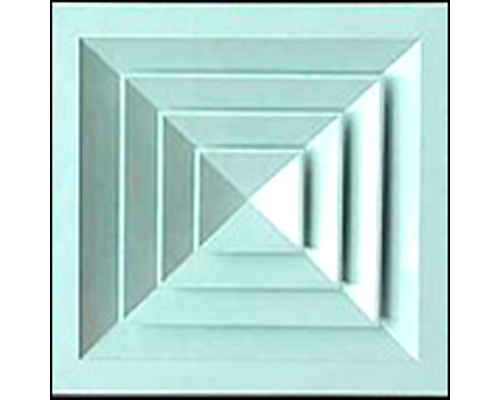 Features
Rectangular/Square Diffusers are suitable for Ceiling/Boxing applications.They are the perfect compliment for any interior where smallest details has been executed with care.Diffusers can also be supplied with nonstandard frames/boarders as per the customer requirements.
Material Used In Manufacturing
Extruded Aluminium Sections/M.S. Sheets.
Finishes
EPROXY POLYESTER POWDER COATED(Broken off White/Pure White/Ivory)
Natural Anodised
Other powder coating finishes available on request.