Home
»
Our Products
»
Green House Evaporating Cooling System
Green House Evaporating Cooling System
Frame Cooling Pad
Frame Cooling Pad is designed by using superior quality material and extensively used in different greenhouses for cooling applications. These pads ensure long lasting effectiveness, fast speed of pervasion and excellent water absorption capacity. It is made as per international industrial standard and follow the moisture evaporation mechanism.

In this Frame Cooling Pad , moisture is evaporated which further lowers the temperature automatically. Further, this also produces various negative oxygen ions which effectively increase the amount of oxygen in the air. Besides, these have specific stereoscopic structure, which offer the maximum evaporative surface area for heating exchanging between water and air. These are exclusively designed for comfort cooling of crops.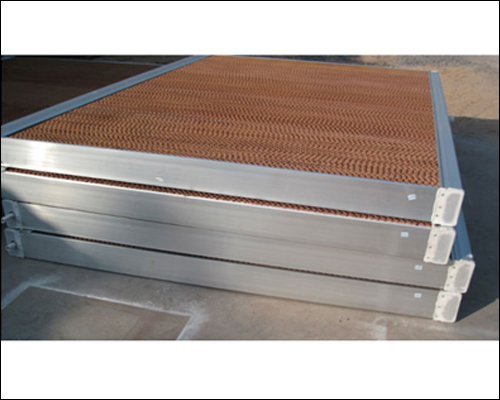 Following are the major features of this range:
High efficiency
Consistent performance
Longer service life
Specifications:
Application: Green-house, Poultry, Air cooler
Type: Evaporative cooling pad
Frame material: Galvanized steel, Aluminium, CI
Ventilation Exhaust Fan:
Product's Advantages:
Negative pressure ventilating fan series are designed scientifically.
Low cost, low noise, good ventilation effect, strong air flow, energy saving, long lasting and high efficiency.
The parts with stainless steel have waterproof and dustproof effects.
By pumping the air with negative pressure, the fan circulates the air indoor and outdoor, and drives out the heat in the workshop.
Product's Applications:
Ventilating fan is useful for the following areas:
Agriculture field: large farms, greenhouses, animal husbandry houses etc.
Industrial field: textile mills, clothes making factories, glass, rubber, food processing factories, etc.
Civil field: super markets, cyber clubs, big dinning halls, waiting rooms,etc.
More Details of the Product:
Frame:Frames are made of galvanized board, thickness 1.0mm, galvanizing layer 180g /square meter.
Shutters: galvanized board, 0.8 mm thickness while the middle piece thickness 1.0mm. Galvanizing layer ,120g/square meter.
Blade: Material stainless steel mirror face.
Inlet wind protecting net: spraying iron steel wire.
Electrical motor: Aluminum alloy frame motor, 380V/220/415V, 50HZ 3Phase/Single Phase, 4-pole speed, 1410r/m, IP55, class F, efficiency 90%, top/foot mounted.
Belt: V-belt driven for large size and Direct driven for small size
Motor bearing: As per standard.
Specification:
| | | | | | |
| --- | --- | --- | --- | --- | --- |
| Description/Model | AMCS-VF-900 | AMCS-VF-900 | AMCS-VF-900 | AMCS-VF-900 | AMCS-VF-900 |
| Blade Dia. | 900 mm | 1000 mm | 1100 mm | 1250 mm | 1400 mm |
| Power | 0.55 KW | 0.75 KW | 0.75 KW | 1.1 KW | 1.1 KW |
| Voltage | 3 Phase 380V/50 Hz | 3 Phase 380V/50 Hz | 3 Phase 380V/50 Hz | 3 Phase 380V/50 Hz | 3 Phase 380V/50 Hz |
| Air Flow | 30000 CMH | 35000 CMH | 40000 CMH | 44000 CMH | 55800 CMH |
| Blade RPM | 610 | 600 | 460 | 439 | 325 |
| Motor RPM | 1400 | 1400 | 1400 | 1400 | 1400 |
| Blade Material | Stainless Steel | Stainless Steel | Stainless Steel | Stainless Steel | Stainless Steel |
| Motor Type | 4P/Class F | 4P/Class F | 4P/Class F | 4P/Class F | 4P/Class F |
| Dimension | 1000X1000 X400 | 1100X1100 X400 | 1220X1220 X400 | 1380X1380 X400 | 1530X1530 X400 |
| Frame Material | Galvanized | Galvanized | Galvanized | Galvanized | Galvanized |
| Shutter Material | Galvanized | Galvanized | Galvanized | Galvanized | Galvanized |
| Protective net | Galvanized | Galvanized | Galvanized | Galvanized | Galvanized |