Home
»
Our Products
» Volume Control Damper
Volume Control Damper
AMCS Cooling Systems Pvt. Ltd. manufactures a comprehensive range of control dampers suitable for all commercial HVAC applications, to the industry leading ultra-low leakage, premium quality airfoil control damper.

Whether the requirement is for a large multiple-section tight shut off outside air intake damper or a small branch duct round balancing damper, we have the model to fit your needs.

We manufacture a range of air terminal equipment that are suitable for industrial & commercial purposes as they suit the specific requirements of each customers. Our grills and dampers are specially designed to suit most commercial projects and have a quality diffuser that has 1, 2, 3, 4 way directional flow. We also manufacture multi slot diffuser in 2, 3, 4 and 5 way slots. Our entire range is manufactured using extruded aluminium and steel.
Construction:-
The air washer´s mist separator is constructed equipped with a quick locking mechanism. The continuously fed double spray nozzles are positioned on lances, which are flanged onto the casing. This makes maintenance or an inspection in the shortest time possible. The removal direction of the mist separator units, depending on the air direction being left, right or upwards is adapted to the local conditions accordingly.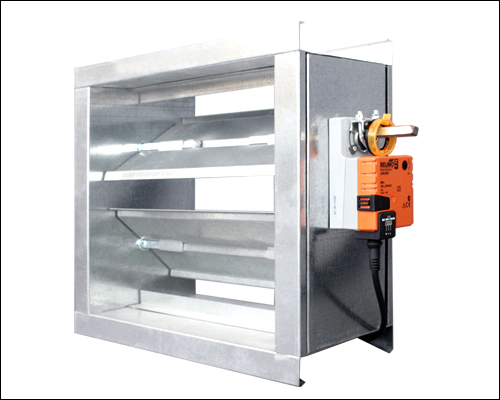 Features
Galvanized Iron Volume control dampers are particularly suitable for Air handling units,Air washer,duct systems.Normally, 20 gauge galvanized steel blades are used within a 16 gauge galvanized frame.Operating mechanism like screw,cam or handle types are available.

Standard sizes are available,However specific sizes can also be provided by us as per customer applications.
Single Skin Air Handling Units
Single Skin Air Handling Units are complete with pre filter section, coil section and fan section, mixing box section, face & bypass damper section and fine filter sections are optional and are provided against specific requirements. Single skin AHUs are fabricated out of G.I. Sheets which can be powder coated or painted. Fans used by us are of forward/ backward curved as per requirement and are of best quality available in the market.
Double Skin Air Handling Units
Double Skin Air Handling Units use plain G.I sheet (inner) and pre painted sheet (outside) with 25mm/ 50mm thick expanded polystyrene (PUF) insulation sandwiched between two layers.
Finishes
Eproxy polyester power coated
Spray Painting
Other powder coating finishes available on request.